Best Chauffeur Driven Vehicles Nairobi
"Our main job is to Help You Travel Across East Africa Region; Safely, Conveniently, Comfortably & Affordably!"
How to book a car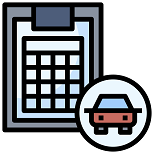 Choose a car from listings
Go to booking form, choose a car and input some information: Start Date, End Date, Location ... Then click Book Now Button or Request For Quote
Cart and Checkout
Review the rental information in cart and click Checkout Button for paying
Payment and receive car
You can easily pay via Lipa Na M-PESA , Credit Cards, Direct bank transfer and other payment gateway. After paying successfully, you will receive a confirmation email with the booking details.
Google Reviews
I dont know how i can thank Bamm Tours for the help that you offered today! So, our travel agent had booked us on the Morning Train to Mombasa but... read more had told everyone in the office that it was in the afternoon only for him to call each one of us in the morning and tell us that the Train was in deed leaving in the morning and not in the afternoon as we had earlier  been communicated. he had tried to rush us to the SGR Syokimau but we arrived late. we searched on the internet for the bus to take us to Mombasa and we found Bamm Tours. They responded quickly and we made it to be in Mombasa by Evening! Whats more we actually ended up staying with the bus in our entire stay with the help of your amazing driver Patrick! Wherever you think of hiring a rosa bus, always think of Bamm Tours. Thank You Bamm!

Mary Motho


Bamm Tours are doing Excellent job Keep up the good job

jimkelly mugambi


The service was amazing, my folks were happy. They said Evans is a great driver and he was polite and a gentleman! I will definitely be coming back and will recommend you... read more to my circle!!! I also love your customer service, very efficient. Thank you!!

Thesimplepalate - Christine Njeri


Hello Bamm Tours & Safaris. It was such an amazing experience dealing with your company and surely you stand recommended 💯💯from my end. Kudos to the timely and awesome... read more customer service. Keep going on and on. I look forward to dealing with you all once again.👍👍.

Mwaura G.


Cars in excellent condition, experienced, knowleadgeable, steady,polite drivers. Punctual,patient and professional. Highly recommended for all your travel needs. We are happy clients!

Peter Ahuli

(for tours and travels click on this button to be redirected to our other site)
Featured companies
Companies we have worked with