Best Chauffeur Driven Vehicles Nairobi
"Our main job is to Help You Travel Across East Africa Region; Safely, Conveniently, Comfortably & Affordably!"
How to book a car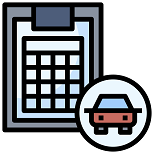 Choose a car from listings
Go to booking form, choose a car and input some information: Start Date, End Date, Location ... Then click Book Now Button or Request For Quote
Cart and Checkout
Review the rental information in cart and click Checkout Button for paying
Payment and receive car
You can easily pay via Lipa Na M-PESA , Credit Cards, Direct bank transfer and other payment gateway. After paying successfully, you will receive a confirmation email with the booking details.
Google Reviews
Good well maintained and clean vehicle, seats were comfortable with enough legroom for even the tallest among us; the driver (John) was knowledgeable, kept time and a very good driver.... read more To allow for the seating space, there is limited storage space, which was not an issue as it was a day trip. All in all, excellent service, highly recommended.

Betty Kanyagia


Bamm Tours are doing Excellent job Keep up the good job

jimkelly mugambi


Cars in excellent condition, experienced, knowleadgeable, steady,polite drivers. Punctual,patient and professional. Highly recommended for all your travel needs. We are happy clients!

Peter Ahuli


The team at Bamm tours were punctual to pick our team @ 6 am in rongai and waited the whole day to return them back. Were patient enough for the... read more event to finish for them to follow up on the balance and maintained professionalism throughout our engagement. We asked for the bus two days to the event and were able to deliver despite the short notice.

Deborah Naliaka Njoroge


Bamm Tours thank you. We had an absolutely fantastic time on our trip. I can attest without hesitation the primary reason we had a great time was due to... read more you and the care and attention you put into planning our trip. I would happily use your services again in the future! I loved every minute of our trip and can't wait to figure out my next adventure! Thank you so much for being proactive, top notch customer service. #Bammtours

Kaibz J

Facebook Reviews
Isaack Mutabi
2021-07-04T11:46:27+0000
They have the best Tour's and Safaris services in Kenya. Their drivers are friendly and competent. I commend

...

1.Peter2.David3. SimonGod bless you for your good driving skills

read more
Joseph K Muli
2021-06-24T11:35:31+0000
Excellent service especially with the follow up. They delivered as agreed and the rates are reasonable.
Edwardo Marx K
2021-06-16T09:32:56+0000
Much appreciated All went very smoothly ,during the reservation Fortunately, there was no need of any kind of

...

special assistance during the trip with the car, They have well maintained vehicle's comfortable . you Will be definitely be our chose again for our next trip

read more
Abraham Cherus
2021-06-14T12:29:47+0000
After being horribly disappointed by a another tour agent,I urgently needed a comfortable and spacious van to drop off

...

my guests at Eldoret.Bamm tours delivered it just in time courtesy of the excellent service of Mr Francis. The Vellfire van was in a class of its own with the most comfortable seats and enough space for guests and their luggage. The driver Zacharia was courteous, professional and very supportive. He's just the safety driver we need on our roads.For any traveller/s who wants the best value for their money in car hire, look no further Bammtours is the company of choice.I recommend them for their trustworthiness, excellent customer service, Professionalism,safety and the comfort of their vans especially the Toyota Vellfire and Alphard.

read more
Anthony Ogega Andere
2021-05-17T13:03:04+0000
Needed A V8 LandCruiser, in a short notice of about 30 minutes... and they came through... Top Ade Top...Thank you

...

Bam Tours

read more
Mary Githiaka
2021-03-11T16:07:04+0000
I dont know how i can thank Bamm Tours for the help that you offered today! So, our travel agent had booked us on the

...

Morning Train to Mombasa but had told everyone in the office that it was in the afternoon only for him to call each one of us in the morning and tell us that the Train was in deed leaving in the morning and not in the afternoon as we had earlier been communicated. he had tried to rush us to the SGR Syokimau but we arrived late. we searched on the internet for the bus to take us to Mombasa and we found Bamm Tours. They responded quickly and we made it to be in Mombasa by Evening! Whats more we actually ended up staying with the bus in our entire stay with the help of your amazing driver Patrick! Wherever you think of hiring a rosa bus, always think of Bamm Tours. Thank You Bamm!

read more
Jim Mugambi
2021-03-03T16:19:29+0000
Thank BAMM Tours for organising our travel to Naivasha it's was a very well organized trip we really enjoyed I would

...

really recommend thanks

read more
Abraham Mburu
2020-12-04T14:26:44+0000
Was expecting a car at 12pm. Left all my appointments and was very much disappointed, no phone call no follow up. Big

...

disappointment. Guys

read more
Jeff Javane
2020-10-12T06:02:40+0000
Wow! Everything you would expect from a tours and travel company. The service is personal, professional, efficient and

...

very friendly. This is a Tours & Travel company that you can 100% trust for service with all their usual enthusiasm, expert advice and attention to detail. The office staff and drivers/guides are very nice people too! They are always a pleasure to work with; they are friendly, professional and well informed, and speedily handle customer concerns and fears; Thanks so much for being proactive. And yes, very clean and well maintained cars! I can say BAMM Tours and Safaris always delivers what they promise, and that is Awesome, Blissful, Memorable Moments. Maybe it seems like no big deal to you but this is amazing customer service and it is greatly appreciated. Thank you.

read more
Alex Victor Mbugua
2020-10-11T17:36:35+0000
I just completed my 4days 3nigts safari @ maasai Mara. I loved the services bamm tours provided for us from quality

...

utility vehicles to tour guides, free photography and great customer service. Try bamm tours today and get your share of the greatest and best deals

read more
Hargreaves Jnr Standa
2020-01-13T06:06:09+0000
Bamm Tours is the best. Liz at the office has excellent customer service skills. Driver David was amazing on the road

...

and we enjoyed our Trip to Sagana Rapids Camps.. 5 stars from me.

read more
Nyambura Mesh
2019-11-23T02:50:48+0000
It's been one amazing journey with Driver Robert to Mararal from Nairobi his patience was exemplary,driving perfect

...

and we enjoyed his company too. The vehicle was clean well maintained and the whole Bamm team was supportive.Thanks again Bamm tours

read more
Nicole Deschamps
2019-07-13T15:25:56+0000
My family and I had an amazing week with Bamm Tours. They were accommodating to all of our requests and were very

...

patient with our kids. We saw the Big 5 and much much more. I truly recommend them for your travel in Kenya.

read more
Eric Gichuki
2018-04-08T11:07:11+0000
They are the best in Travel industry. Best guidesSafe and modern Safari VansGreat and very supportive staffSimply

...

the best there can be!

read more
Florence Muchia
2018-02-18T18:46:46+0000
The director has done an amazing job organising his team, from the comfort of the drive to the destination, to making

...

sure everyone is comfortable during their stay all the way to coming back to Nairobi was amazing. Just came back from the Mara trip and it was amazing! KUDOS!

read more
Peetahkin Mwangi
2016-11-08T12:04:02+0000
BAMM Tours and Safaris Ltd is the leading Travel Agency in the country offering the best deals , excellent services and

...

customized packages for our esteemed clients. Join in for an unforgettable experience ...

read more
Maggie Manzi Wamagari
2016-10-21T09:42:36+0000
Great service and personal touch.loved the tour can't wait for the December package
Nikky Muthee
2016-02-25T15:13:48+0000
Very creative and customer oriented and offers personalized services. Kudos to the CEO and all brains behind this!
Symoh Mwangi
2016-01-18T10:08:16+0000
They offer quality service tailored to suit client needs to his/her utmost satisfaction.Try Bamm Tours(Blissful Awesome

...

Magical Moments)

read more
Jeremy Vermilya
2016-01-14T11:37:04+0000
Excellent service unparalleled in Kenya. Well organised tours and transport with as much or as little personal touch as

...

desired. 6 stars!

read more
David Gachie
2015-11-08T04:37:39+0000
You are the best in town and even online
Mary Steve
2014-10-23T15:18:25+0000
Keep it up guys, you are doing a great job, b blessed
Next Reviews
(for tours and travels click on this button to be redirected to our other site)
Featured companies
Companies we have worked with